Post by Saar°berry on Feb 11, 2007 6:23:06 GMT -5

The Afterglow Rules/Info

Please read, before posting.
Welcome to all New Bees!
Have a seat in our grass green sofa and enjoy the ride!

*spreads out welcome mat*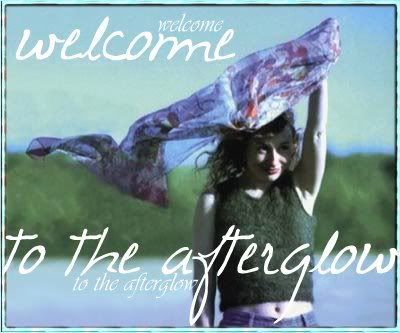 Here we go:
Member Groups
There are 4 member groups.
1 -->
Bee
(regular member)
--- staff members: ---
2 -->
Little Helper
(moderators = helping hand)
3 -->
A/V Contributors
(contributors of Audio/Video downloads)
4 -->
Art Contributors
(contributors of Art)
5 -->
Master Shaman
(administrators = da bosses

)
You can view the staff members here:
who's who?
The Little Helpers and the Master Shamans are here for you, if you have any technical difficulties or any questions about this board. Just PM us or leave a message in:
|| ...Help Desk... ||
and we will be at your service!

*tips of hat*
Please check our '
FAQ
' section first, before posting your question, maybe your question has been dealt with before in the FAQ.
Rules
General
1) We do not allow ANY racistic comments.
2) We do not allow (unvalid) personal attacks.
3) We do not allow drama. ~ 'drama, take it elsewhere!'
We want this place to be as peaceful as possible.
We are a DRAMA FREE forum.
If you ignore these rules, you will get banned.
INFO about the PASSWORD protected area
We password protected 1 section: 'Pick Out Your Cloud'. You
earn
this password when you reached
about 50 posts
. We do NOT allow SPAM. We only allow SERIOUS posting. If we see that you're not seriously posting (for example: when a person posts 40 posts in one night, where each post consists out of two words...) then you will NOT be given our password, eventho you have reached the 40 posts.
We decide if you earned this password or not.
This is a community and we want to keep this. If you are serious about being a member then you're serious about posting, pretty simple. I hope you understand.

Please do not talk about the password here... for obvious reasons...

Do NOT share this password with anyone else, outside this forum. If we notice you have been spreading our password, then you will get banned from this community. We take it very seriously. Thankies.
HAVE FUN!
Yes... have fun! We are quite a crazy bunch here. There are lots of things going on. Please check out our various boards and keep an eye on the
Announcements
section for our future projects! You don't want to miss out on those!
Hope you will feel at home!
Lots of love,
The Afterglow Staff